Target group
Numar maxim de participanti
Perioada de desfasurare



All sales force
Sales managers (to recall certain aspects)
B2C sales (but not retail)
B2B sales in all areas
B2B2B / C (companies working with distributors)

 
 
 
What questions can SIMDUSTRY® SIMSales answer?
"How do I maximize the use of my resources (time, sales support, conditions)?"
"How can I contribute to optimize the turnover, reputation and stability?"
"What success factors are crucial for boosting sales?"
Within the one-day (+x) simulation SIMSales your delegates are salespeople in competing companies taking over the task of finding, acquiring and developing customer relations. Each company is competing for the "Highest Score of Commercial Efficiency".

In teams they explore the full process of customer acquisition, development and management. The delegates simulate the complete sales process: planning, prospecting, need identification, presentation, managing objections, closure and follow up.

Not easy, but full of fun, in-depth insights and learning!


What does SIMDUSTRY® SIMSales look like – the simulation board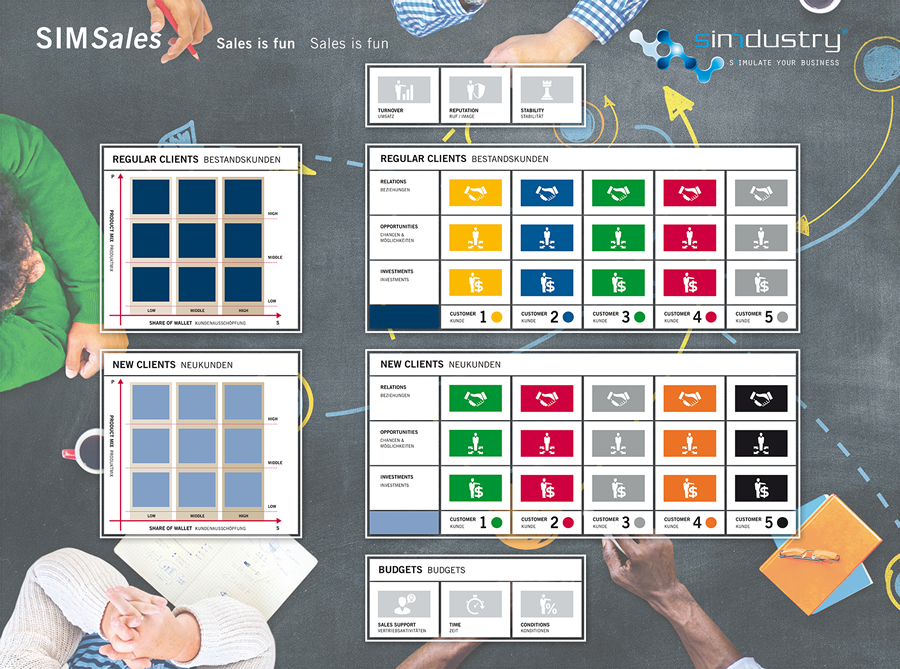 What are the overall learning goals of SIMDUSTRY® SIMSales?

With SIMDUSTRY® SIMSales your delegates will …

learn about acquiring and developing sustainable customer relationships
master each of the 7 phases of the sales process:
Planning
Prospect
Needs and opportunity identification
Presentation
Managing objections
Closing
Follow up and relation building
grasp the key-success factors for each sales phase
optimize communication tools to unleash & maximize sales success
experience dealing with real-life "events"* in the whole sales process
* our EVOLUTIV simulation experts create with their clients real-life event cards reflecting their industry specifics, company specifics and their strategic goals
To whom is SIMDUSTRY® SIMSales recommended?
Different target groups can benefit from SIMDUSTRY® SIMSales:
All outside sales people (employees or free-lancers)
Sales managers (to reinforce their understanding of sales processes)
B2C ( but not retail) sales (insurance, financial services)
B2B all sectors
B2B2B/C (companies who sell through distributors)

HOW DO WE WORK?

During this activity, the participants become entrepreneurs or executive managers.
The teams in which they are active become companies operating in the same market.
The classroom itself becomes, meanwhile, an entire competitive market.

 

Our business simulation creates an ideal context for learning, in which lessons learned have immediate applications, being directly transferable to the reality of simulation, and then into daily reality.



The program uses a wide range of experiential learning tools: auditory, visual, kinesthetic.

They will improve their managerial skills as they "play" with the various decisions and contexts in which the simulation will put them, plan, and gradually work in more and more complex activities where all kinds of challenging situations arise. Just like in real life.




Tailoring to your company specifics

How will the "customer profiles" reflect your company specifics?

Customer Profiles We integrate the following elements of your client's company…

General description/Background of the person
Personality/ description
Job qualification
Strengths & weaknesses
in the customer profiles to reflect realistic client information.

How will the tools and actions "Planning" reflect your company specifics?

Actions/tools for "Planning" SIMSales has 2 standard planning and event structures:
1. for b2b (2 level selling.. your customer uses your product or service)
2. for b2b2b/c (your customer resells your product/ service)

We can further personalize according to…

your industry
your company
your strategic needs
How will the "Event Cards" reflect your company specifics?

Event Cards Based on interviews with different departments of your company we design event cards reflecting unforeseeable events in your delegates' daily business due to …

your industry
your external clients
your internal processes
OPTIMUM classroom setup