Target group
Numar maxim de participanti
Perioada de desfasurare



line managers,
middle managers,
future managers,
entrepreneurs

 
 
"The responsibility of managers" - more than one discipline
Managing3 is the first board simulation that illustrates both haptically and visually the relationships between different management disciplines. This allows your delegates a unique learning experience; including how to transfer their learnings directly to their individual areas of responsibility!
In passing through different business periods aspiring or current managers experience the impact of their behavior and decisions in three core areas of responsibility:
Strategic Management: competitiveness, corporate strategy & goals definition
Financial Management: costs, profitability & KPIs
Human Resource Management: motivation, leadership & limited time budgets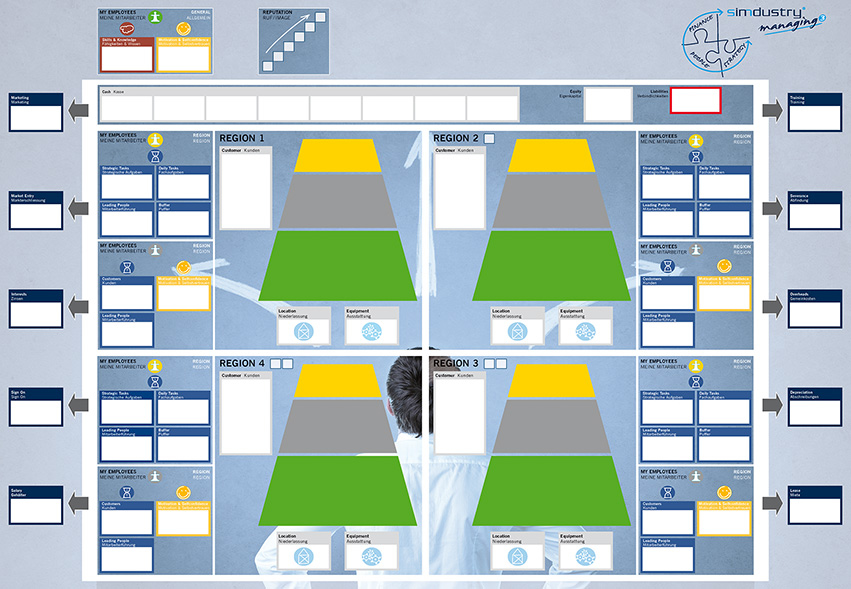 Why is Managing³ company-specific?
Managing3 allows your delegates to get a helicopter view of decision-making processes & interdependences in companies – in general and also with specific insights into your own company and its challenges in the competitive environment.
In essence we always tailor the simulation managing3 to your business through checklists, event cards and relevant inputs, based on your company-specific learning goals for the respective target group. In this way your business processes, scenarios and connections are mirrored.
What benefit do you derive from Managing³ ?  
The global clients of managing3 appreciate this diverse and flexible simulation, because it…
enables your staff to understand and put into action the mutual dependence of their three main areas of responsibility

Human Resource Management
Financial Management
Strategic Management

delivers a targeted understanding of the management of the success factors relevant to your company and thus contributes to long-term business success
enables sustainable learning with fun, interaction and direct, individual relation to reality for your staff
What makes  Managing3  "special"?
We tailor managing3 to your business' learning goals!
We incorporate your internal company specifics and those of your industry by ....
Tailoring the simulation checklists in the simulation process
Developing bespoke event cards
Event cards
Goal: Portrayal of unforeseen internal and external events
The event cards are introduced into the simulation at predetermined times during the business year.
Adaptation potential
We develop tailor-made event cards for you, which depict the following "unforeseen" events: 
in-house events
industry sector-related events
regional or global economic events
Checklist
Goal: illustration of internal & external company activities and associated value flows
Based on the checklist your delegates simulate the business processes during the course of the year.
Adaptation potential
In the checklist we incorporate  the specifics relevant to your business as well as  based on your learning goals the main themes that crop up in a business year.



 
What are specific topics / areas of learning in Managing³?
› staff the key to success
What do I need as a manager to ensure that employees can use their potential and develop within the company?
Possible contents: Time and self management, management styles, tools, motivation, ...
› "Business appetite" - Limits and possibilities of healthy business growth
How do I strike the balance between "business appetite" and current and future capacity?
Possible contents: strategic resource planning, decision making, communication, ...
› Investment investment decisions on the basis of financial analyses
What is required to make a sustainable economic investment?
Possible contents: basic business knowledge, key figures, entrepreneurial thinking, ...
› Flexibility focusing, re-focusing and setting priorities
As a manager to what extent do I have to react to changes in the business environment?
Possible contents: strategic competitive analysis, risk assessments, adaptation needs, ...
› Image consciously control the outward appearance
What factors do I have to observe and influence to support the image of our brand?
Possible contents: Positioning, brand & corporate attractiveness, potential for development, ...



Which topics does Managing³ focus on?

Focus –  Financial Management

Supported by the simulation your delegates receive among other things an effective insight into the three elements of the financial statements and into the key figures relevant to your company and your industry. A haptic experience of the importance of financial variables is supplemented by inputs on financial control mechanisms, cost issues and other financial learning areas.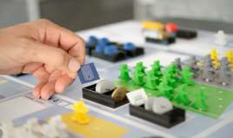 In addition your delegates experience first hand the interaction of their "financial management" tasks with their other areas of management responsibility: Financial restrictions prevent acquisition &development of talents and limit future relevant investments.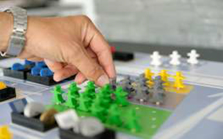 Focus –Strategic Management

Responsible for leading "your own company" in the simulation your delegates develop their own corporate strategy and have to react continuously to competitive changes. This experience of strategic thinking and action is supplemented by input on issues such as strategy generation, implementation and management.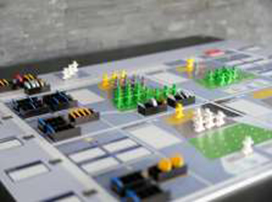 In addition your delegates experience first hand the interaction of their "strategic management" tasks with their other areas of management responsibility:  Strategic mistakes and their impact on the company's image in the market and on the company's financial strength.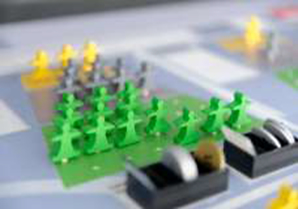 Focus – Human Resource Management/ Employee Leadership

In the simulation, your delegates make decisions about: appointment or release of employees, tasks and time management in different levels of the hierarchy, measures for employee development & motivation. These are supplemented by inputs to issues such as leadership & communication, time management, motivation & delegation.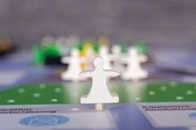 In addition your delegates get to understand how their "human resource management" tasks interact with their other areas of management responsibility : Strategic immobility and operating under financial restrictions by de-motivated, poorly-developed and underperforming staff.


HOW DO WE WORK?
During this activity, the participants become entrepreneurs or executive managers.
The teams in which they are active become companies operating in the same market.
The classroom itself becomes, meanwhile, an entire competitive market.
Our business simulation creates an ideal context for learning, in which lessons learned have immediate applications, being directly transferable to the reality of simulation, and then into daily reality.


The program uses a wide range of experiential learning tools: auditory, visual, kinesthetic.

They will improve their managerial skills as they "play" with the various decisions and contexts in which the simulation will put them, plan, and gradually work in more and more complex activities where all kinds of challenging situations arise. Just like in real life.

How is the simulation setup in Managing3®?

Your delegates form up to 5 simulation teams (each of 3-4 people), which compete against each other in a virtual market during the course of the simulation.
Several business periods are simulated, in which the delegates make independent management decisions as a leadership team. The objective is to lead the business in a successful and profitable manner and to develop it strategically. Thereby delegates receive insights into the success factors of business thinking and trading and can transfer these to their own real-life fields of activity and responsibility.
The training excels by providing an effective interchange between the simulation and topic-specific inputs and reflections, each of which builds upon the other.
At the end of each business period the following take place:
Comprehensive subject-specific inputs related to your pre-defined learning goals
Intensive reflection and discussion phases to identify the success factors in decision-making and behavior

OPTIMUM classroom setup